If you have spent any time in the personal development space at all, you've heard about this place… your comfort zone and all the magical benefits of getting out of it.
Yes, as you'll hear my guest talk about today, there are the benefits of growth and learning (among others) that come with stretching beyond what we think is possible, but there's a little more to it than that.
Andy Molinsky is a Professor at Brandeis University's International Business School, with a joint appointment in the Department of Psychology.  Andy received his Ph.D. in Organizational Behavior and M.A. in Psychology from Harvard University. He also holds a Master's Degree in International Affairs from Columbia University and a B.A. in International Affairs from Brown University.
Andy's work helps people develop the insights and courage necessary to act outside their personal and cultural comfort zones when doing important, but challenging, tasks in work and life.
His research and writing has been featured in Harvard Business Review, Inc. Magazine, Psychology Today, the Financial Times, the New York Times, the Wall Street Journal, the Boston Globe, NPR and Voice of America. Andy was awarded as a Top Voice for LinkedIn for his work in education.
His first book, Global Dexterity (Harvard Business Review Press, 2013), received the Axiom Award (Silver Medal) for Best Business Book in International Business & Globalization and has been used widely in organizations around the world, including Boeing, AIG, the US Air Force Academy, and the Clinton Foundation, among others. His new book Reach was published with Penguin Random House in January 2017.  He teaches, consults, and lectures widely to university and corporate audiences.
Today we'll talk about his book Reach: A New Strategy to Help You Step Outside Your Comfort Zone, Rise to the Challenge and Build Confidence and much more…
In this episode you'll learn
Ways we can get prepared to take a leap outside of our comfort zone.
How to manage internal conflict and move forward with courage.
How to find the balance between over planning and rushing into action.
Why we shouldn't over-glorify taking a leap, but treat it as a process of learning and self-discovery.
How to embrace the unknown by developing curiosity and excitement.
Why sometimes it's beneficial and appropriate to stay inside of our comfort zone.
How to make progress in spite of fear and anxiety.
Learn attributes we can develop to better navigate uncomfortable situations.
How to fuel accomplishment by setting reasonable goals.
The importance of showing up every day and taking consistent action.
How to stop focusing on the worst case scenario.
How to develop clarity, and get out of the stages of overthinking.
Click to Tweet Andy's quote
– Woody Allen
Connect with Andy on social media
Twitter | Facebook | LinkedIn | Website
Resources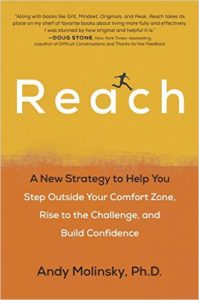 You may also like these episodes
Subscribe to The Next Level
Like what you heard?
Strike up a conversation here on the blog, leave a comment below with you biggest take home point.
If you like the show, please take a moment to leave an honest review and rating for the podcast on iTunes, they're super helpful for the ranking of the show and I read every single one of them personally!
AND, remember to subscribe to the podcast on iTunes, to get automatic updates every time a new episode goes live!