I sat down with Josh to talk about how Failure Breeds Success and Scaling Yourself with Your Company back on episode 10 and he's back to dive into his new book, Balance is BULLSH*T: How to Successfully Integrate Work & Life.
Joshua B. Lee is a strategic growth coach helping individuals to scale themselves with their company so they do not scale themselves out of their company. He's the Founder and President of the multi-media agency LF Media, inc. which over the last decade has launched many brands.
To connect with like minded entrepreneurs, Josh founded aa high level networking group for entrepreneurs, Monstapreneur where they connect monthly to help "Relax, Reset, and Refocus" through epic adventures and experiences.
Josh has been featured in some of the biggest media outlets like Fox Business, CNN, Inc. Magazine, USA Today, The Verge, ABC, CNN, NBC and many more.
Today we'll unpack Josh's new book and so much more.
In this episode you'll learn
Why Joshua gave away almost everything he owned and closed down 12 companies so he could get in touch with his vision and find his happiness.
Why work/life balance is a myth, and how we can move from balance to integration, and be our true selves 100% of the time.
Learn the biggest pitfalls that stop people from developing their vision.
Why tactics and strategies lose their power when you don't first develop the mindset for implementation.
How meditation can provide the groundwork to understand who we really are, and what we really need.
The benefits of journaling right after you meditate, and the interesting impact of writing with your non-dominant hand.
Learn methods of visualization that will engage more of your senses, and evoke stronger emotions.
The benefits of looking at activities and people in your life from an energy standpoint.
Discover strategies to close your mental loops, and go to bed feeling accomplished.
The importance of not letting the outside world dominate your morning.
Click to Tweet Joshua's quote
"When you let go of who you are, you become who you might be."
– Rumi
Connect with Joshua on social media
Twitter | Facebook | LinkedIn | Website
Resources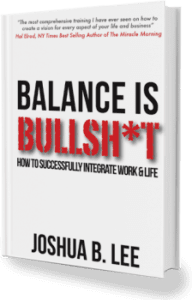 You may also like these episodes
Subscribe to The Next Level
Like what you heard?
Strike up a conversation here on the blog, leave a comment below with you biggest take home point.
If you like the show, please take a moment to leave an honest review and rating for the podcast on iTunes, they're super helpful for the ranking of the show and I read every single one of them personally!
AND, remember to subscribe to the podcast on iTunes, to get automatic updates every time a new episode goes live!