I think we all have that one topic we geek out on the most. For me… it's emotions. Our emotional life, how we respond to our environment and our behavior has the ability to make our life a blissful experience or a living hell. To date, there are countless books on how emotions happen, BUT is there another way emotions could be forming?
My guest today, through decades of research, her lab work, and peer reviewed publications, has presented a new theory of emotion in her most recent book How Emotions Are Made: The Secret Life of the Brain.
Lisa Feldman Barrett, PhD, is a University Distinguished Professor of Psychology at Northeastern University, with appointments at Harvard Medical School and Massachusetts General Hospital. In addition to the book How Emotions are Made: The Secret Life of the Brain, Dr. Barrett has published over 200 peer-reviewed, scientific papers appearing in Science, Nature Neuroscience, and other top journals in psychology and cognitive neuroscience, as well as six academic volumes published by Guilford Press.
Dr. Barrett received a National Institutes of Health Director's Pioneer Award for her revolutionary research on emotion in the brain. These highly competitive, multimillion dollar awards are given to scientists of exceptional creativity who are expected to transform biomedical and behavioral research.
Among her many accomplishments, Dr. Barrett has testified before Congress, presented her research to the FBI, consulted to the National Cancer Institute, appeared on Through The Wormhole with Morgan Freeman, and been a featured guest on public television and worldwide radio programs. She is also an elected fellow of Canada's most prestigious national organization of scholars, the Royal Society of Canada (analogous to the National Academy in the United States).
Today we'll dive into her book How Emotions Are Made and what these new findings could mean in relationships, personal change, and so much more.
In this episode you'll learn
The new theory that our emotions are less of a hardwired response, and actually created in the moment.
How to break down emotions into smaller parts, and give new meaning to those sensations.
The ways that beliefs can impact and alter our perception.
How we can stop emotions from overtaking our thoughts and actions.
Why the brain lives in a perpetual state of guessing and predicting… and how this affects learning and processing information.
How we can construct our current reality by rewriting our past experiences.
How our terminology for describing emotions can give us more control over their meaning and impact.
Why we can't properly gauge an emotion based solely on facial expression.
Strategies for increasing a child's emotional intelligence.
How emotions can affect the healing rate from disease.
How our brains wire and rewire themselves in response to our individual life experience.
Click to Tweet Lisa's quote
"The past is never dead. It's not even past."
– William Faulkner
Connect with Lisa on social media
Twitter | Facebook | YouTube | Website
Resources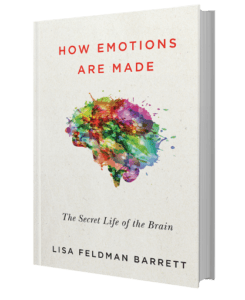 You may also like these episodes
Subscribe to The Next Level
Like what you heard?
Strike up a conversation here on the blog, leave a comment below with you biggest take home point.
If you like the show, please take a moment to leave an honest review and rating for the podcast on iTunes, they're super helpful for the ranking of the show and I read every single one of them personally!
AND, remember to subscribe to the podcast on iTunes, to get automatic updates every time a new episode goes live!