"It's more than just change that's afoot right now… it's an entire shift of perception that causes reality to function differently." – Penney Peirce
This is a bold statement, but one that many of us are realizing… some in more subtle ways and others in more painful ways.
It's not something new and different, it's like we are remembering who we are and uncovering it.
Penney Peirce is a respected clairvoyant empath, visionary, author, and popular lecturer and trainer. She is one of the early pioneers in the intuition development movement, specializing in intuition development, inner energy dynamics, expanded perception, transformation, and dream work. She has worked throughout the US, Europe, Japan, South America, and South Africa since 1977, coaching business and government leaders, psychologists, scientists, celebrities, and those on a spiritual path about the hidden dynamics of what makes for true success.
She is the author of ten books, including Transparency: Seeing Through to Our Expanded Human Capacity, Leap of Perception: The Transforming Power of Your Attention, Frequency: The Power of Personal Vibration, and The Intuitive Way: The Definitive Guide to Increasing Your Awareness.
These are the stages transformation, how our consciousness is changing, and how its affecting the way our life works. This process of transformation is what fascinates Penney and what she unpacks in the 4 books previously mentioned.Transparency is what she describes as the last phase, or as we jokingly said in today's show… that she's noticed so far.
Transparency is what she describes as the last phase. While this is a word you may relate to information, in her book, Penney outlines different levels or types of transparency, specifically horizontal and vertical transparency. She also speaks to the larger shift from the information age to the intuition age.
There is so much in this book and it's definetley worth a read. For me Transparency was a great bridge between those hard to grasp "spiritual" concepts and reality. It has also exercises in each section to put the concepts and ideas to work right away.
Today we are going to unpack Transparency and dive into what transformation is.
In this episode you'll learn
How you can infuse the physical world with the light of your soul
Why time and space are malleable and don't actually operate on a linear plane
Learning how to slow down, find stillness, and drop into a deeper state of conscious awareness
How to raise your vibrational frequency to avoid the negative emotions of others
Why the past and future are just an illusion and everything exists in the present moment
How a mindfulness practice can help to expand your sphere of consciousness
Why fear begins to subside when you learn to identify with the soul
How you can release internal pressure and tap into the ebb and flow of life
Strategies to remove the clutter from your subconscious mind
How emotional healing can impact the health of your physical body
Learning to tap into the information and insight that comes from the collective consciousness
How you can stop identifying with suffering
Click to Tweet Penney's quote
"Nothing's special, everything's special"
– Buddhist Quote
Connect with Penney
Twitter | Facebook | LinkedIn | Website | Youtube
Resources
Pick up Transparency on Amazon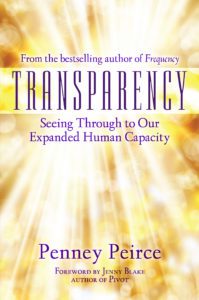 You may also like these episodes
Subscribe to The Next Level
Like what you heard?
Strike up a conversation here on the blog, leave a comment below with you biggest take home point.
If you like the show, please take a moment to leave an honest review and rating for the podcast on iTunes, they're super helpful for the ranking of the show and I read every single one of them personally!
AND, remember to subscribe to the podcast on iTunes, to get automatic updates every time a new episode goes live!