In an ever changing professional landscape, understanding how to leverage your unique skills and values can be a huge advantage for planning your next move.
Jenny Blake is an author, career and business strategist and international speaker who helps people organize their brain, move beyond burnout, and build sustainable, dynamic careers they love. She is the author of PIVOT: The Only Move That Matters is Your Next One, which recently won an award for Axiom Best Business Book in the careers category, and Life After College.
After two years at a technology start-up followed by five years at Google in Training and Career Development, Jenny moved to New York City in 2011 where she has been running her own consulting business in the years since. Jenny combines her love of technology with her superpower of simplifying complexity to help clients pivot their career or business. Her motto: if change is the only constant, let's get better at it.
In her book PIVOT, Jenny details her process called The Pivot Method which is a practical approach to understanding your values, strengths, clarifying your vision, what skills to cultivate, testing your ideas, and so much more. I found this approach really useful for looking at my own strenghts and gaining clarity around my vision, and I hope you do to.
In this episode you'll learn
How to find the intrinsic motivation to successfully navigate a pivot or major change in your life or career.
Why performing an assessment of your values, can help ensure that you pivot in the right direction.
How to decipher if you should make an internal pivot within your current job, or if it's time to move on completely.
The importance of building on what is already working, in order to get to what is next.
The ways that you can optimize your business projects, for "revenue AND joy"
The reasons to build a portfolio of your skillsets, and not let one job or company be the sole provider for your identity.
The beauty of having JUST enough structure in your life, while still allowing for spontaneity and embracing the unpredictable.
How to analyze feedback, and make sure you are meeting the needs of the marketplace.
How to use delegation to focus on high impact activities, speed up implementation, and reduce overwhelm.How to make
How to make massive impact from having "high net growth", and not just a "high net worth".
Click to Tweet Jenny's quote
"What you can plan is too small for you to live."
– David Whyte
Connect with Jenny on social media
Twitter | Facebook | LinkedIn | Website | Instagram
Resources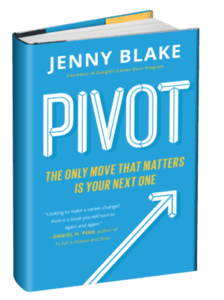 You may also like these episodes
Subscribe to The Next Level
Like what you heard?
Strike up a conversation here on the blog, leave a comment below with you biggest take home point.
If you like the show, please take a moment to leave an honest review and rating for the podcast on iTunes, they're super helpful for the ranking of the show and I read every single one of them personally!
AND, remember to subscribe to the podcast on iTunes, to get automatic updates every time a new episode goes live!